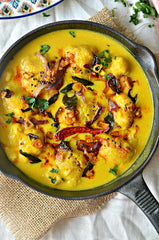 Its comforting and so satisfying, just a bowlful in and you feel the warmth settling in already. This is a typical Punjabi dish- rich, thick and intense! It tastes the best with thick rotis like they serve in Dhabas. Prepare this Kadhi when you want to have something warm and cosy, pair it with some green stir fry aside and roti or rice. Warming and comforting, this Punjabi Kadhi is just the best dish to have this fall
For the Pakodas:
2 cups Gram flour besan 
About ¾ cups of water 
1 tsp Carom seeds ajwain 
1 tsp red chili powder 
½ tsp Garam masala powder 
A pinch of asafoetida hing 
For the yogurt base : Kadhi
2 cups yogurt 
1 cup Bengal gram flour besan 
cups About 4 of water 
2 tsp red chili powder 
1 ½   tsp turmeric powder 
1 tsp garam masala powder 
1 tsp salt  
For the tempering:
2 medium sized onions sliced thin length wise  
1 inch piece of ginger- minced properly 
3-4 cloves of garlic – minced/chopped 
1 tsp cumin seeds
¼ tsp fenugreek seeds methi dana 
1 bay leaf   tej patta 
1 leaves sprig of curry 
1-2 green chilies 
1 tbsp dried Fenugreek leaves  kasuri methi 
2-3 dried red chilies 
1 tsp mustard seeds 
1/2 tsp red chili powder 
3 tbsp mustard oil or ghee or any vegetable oil
 A pinch of Asafoetida heeng 
Salt to taste 
leaves Fresh coriander to garnish cilantro
VILLAGE NATURAL YOGHURT 1 KG
VILLAGE GREEK STYLE YOGHURT 1 KG
VILLAGE PREMIUM YOGHURT 1 KG
First of all- plan ahead and prepare the yogurt-spice mix at least an hour before you start cooking. I usually keep it aside for 2-3 hours to get good taste. 
To prepare the same, whip the yogurt in a big mixing bowl properly. Add in the gram flour and beat it well. There shouldn't be any lumps, you may use a blender to make it smooth. 
Now mix all the spices listed under "yogurt base" with the yogurt and mix well. Keep aside for an hour so the flavours get absorbed properly. 
In the meanwhile, let's prepare the fritters. Mix all the ingredients listed under Pakoras in a bowl, adding little water at a time to prepare a thick batter. The batter should be of dropping consistency, if its too runny the Pakoras will not hold shape and will get very thin. 
Heat oil in a wok (kadhai) to deep fry the fritters. Spoon the batter and drop it into the hot oil, at medium flame. Fry all fritters in batches and drain them on kitchen paper or tissue.  Keep them aside. 
Now, we will cook the yogurt mix to prepare the sauce:  
Transfer the yogurt-flour-spice mix to a wide wok (kadhai) or a wide pan. Add 4 cups of water to it and bring to a boil. Let it simmer. 
In the meanwhile, prepare the tempering. In a small pan, heat the oil and fry asafoetida for about 10 seconds. 
Add in bay leaf, fenugreek seeds, mustard seeds and cumin seeds, when they start popping up add in dried red chilies and green chilies. Fry for 15-20 seconds  
Add in minced garlic and ginger, fry till the garlic gets browned, say about 10-15 seconds. Next, add in sliced onion and fry till it gets light brown, about 5-6 minutes.  
Add in fenugreek leaves, curry leaves, salt and red chili powder and mix well. Fry for just 10 more seconds and turn off the flame 
Pour this tempering over the simmering Kadhi and mix. Check seasoning and adjust if required. Also check the desired consistancy at this point and add more water if needed. I like my Kadhi thick so I usually simmer it for at least 20-25 minutes, stirring in between.  
When to add the Pakoras? 
Ideally, 15 minutes before serving so they soak up a bit of yogurt sauce but still dont get too soggy. Transfer Kadhi to the serving bowl, dip pakodas into it and cover. I have given my mum's method in the notes below which makes this even more fragrant and tasty.  
Garnish kadhi with fresh coriander leaves and serve with roti or rice, topped with few teaspoonfuls of ghee. 
FRESH MINCED GINGER & GARLIC 1 KG
CUMIN GROUND 1 KG
CORIANDER (DHANIA) GROUND 1 KG
✉️ info@anandofoodgroup.com
🌐 www.anandofoodgroup.com
📍 Australia 🇦🇺 Asia 🇮🇳 New Zealand 🇳🇿 
🍱 International Food Distributor
Kadhi Pakora, Indian Kadhi, Indian Pakora, Pakora Recipe, Kadhi Recipi,  Gram Flour Dumpling, Indian Dumplings, Dumpling Recipes, Gram Yogurt Curry, Yogurt Curry, Yogurt Based Curries, Indian Curries, Gram Recipe, Yogurt Recipe, Spicy Curry, Spicy Yogurt Curry, Spicy Dumpling Curry, Anando, Anando Food Group, Yummy, Delicious, Fresh, Foodie, Homemade, Healthy Food, Healthy Living, Nutrition, Nutritional Food, Healthy Eating, Healthy Life Style, Health Food, Clean Eating, Fresh Food, Delicious Food, Healthy Recipe, Food Recipe, Nutritional Recipe, Yummy Food, Yummy Recipes, Homemade Food, Homemade Recipes, Food Lovers, Australia, Brisbane, Gold Coast, Sunshine Coast, Melbourne, Sydney, Australian Food, Wholesale Food, Food Distributor, International Food, International Distributor