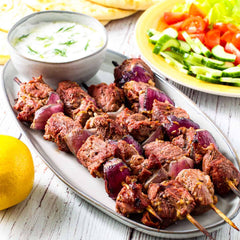 The yogurt marinade is similar to a souvlaki marinade but uses rosemary instead of oregano. And the addition of Greek yogurt helps to tenderize the meat even more than lemon juice alone, so it's super tender. The yogurt kebab marinade goes great on chicken, beef, and, my favorite, lamb. It's fresh, bright, and tangy and packed with TONS of flavor. You'll definitely want to use high quality olive oil and fresh lemon and garlic in this marinade for the best results.
1½ pounds boneless leg of lab or top round 
1 cup Greek yogurt 
¼ cup olive oil plus additional for preparing the grill grates 
1 teaspoon lemon zest 1 lemon 
2 Tablespoons Lemon juice 2 lemons 
3 cloves garlic minced 
1 Tablespoon fresh rosemary chopped 
1 teaspoon Kosher salt 
½ teaspoon freshly ground black pepper 
1 medium red onion cut into 1 inch pieces
VILLAGE NATURAL YOGHURT 1 KG
VILLAGE GREEK STYLE YOGHURT 1 KG
VILLAGE PREMIUM YOGHURT 1 KG
To make the Greek lamb marinade, zest 1 lemon and squeeze the juice from 2 lemons in a mixing bowl. Stir in ¼ cup of olive oil, 1 cup of Greek yogurt, 3 cloves of minced garlic, 1 tablespoon of chopped fresh rosemary, 1 teaspoon of Kosher salt, and ½ teaspoon of freshly ground black pepper, then stir until well combined.

I prefer to use a boneless leg of lamb or top round lamb for kebabs. You'll be able to get nice sized chunks of meat without too much gristle and fat. This marinade will also work on lamb chops or even a whole leg of lamb too. 
 Cut the lamb into around 1 ½ to 2 inch cubes trying to keep them fairly similar in size. I usually end up with some that are smaller and so I set those to the side and put them all together on one skewer so I can cook it a minute or two less than the larger pieces. 
 Once you have your meat cut, place it into a large resealable plastic bag or storage container. Pour the marinade on top then mix it around until all of the meat is well coated. Refrigerate for at least 1 hour, up to 1 day. 
 After the meat has marinated, remove from the bag and thread it on to skewers alternating between meat and 1-2 inch pieces of red onion. Don't pack the meat on too tightly or it will not cook evenly.
For this lamb kebab recipe we will be cooking with direct heat. First clean the grates thoroughly then coat lightly with olive oil.
For a gas grill set the burners to medium-high. For charcoal grills place an even layer of hot coals around the grill. 
 Then add your skewers and cook for about 8 minutes, turning occasionally.
HOW TO SERVE THE LAMB KEBABS
My favorite way to serve these Greek yogurt marinated lamb kebabs is as pita wraps, topped with fresh homemade tzatziki sauce. I serve them with warm pitas and fresh cut vegetables like lettuce, cucumber, and tomatoes and let everyone make their own wrap. 
 They're also great with a side of steamed basmati rice or grilled veggies like zucchini or on top of a salad.
✉️ info@anandofoodgroup.com
🌐 www.anandofoodgroup.com
📍 Australia 🇦🇺 Asia 🇮🇳 New Zealand 🇳🇿 
🍱 International Food Distributor
Marinated Lamb, Lamb Kebab, Yogurt Marinade, Yogurt Marinated Meat, Yogurt Marinated Kebab, Kebab, Grilled Kebab, Yogurt Marinated Lamb, Anando, Anando Food Group, Yummy, Delicious, Fresh, Foodie, Homemade, Healthy Food, Healthy Living, Nutrition, Nutritional Food, Healthy Eating, Healthy Life Style, Health Food, Clean Eating, Fresh Food, Delicious Food, Healthy Recipe, Food Recipe, Nutritional Recipe, Yummy Food, Yummy Recipes, Homemade Food, Homemade Recipes, Food Lovers, Australia, Brisbane, Gold Coast, Sunshine Coast, Melbourne, Sydney, Australian Food, Wholesale Food, Food Distributor, International Food, International Distributor