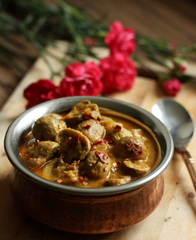 With just a handful of readily available ingredients and few simple cooking instructions, this recipe of Dahiwale Mushrooms or Mushroom Yogurt Curry is something you can whip up when you are pressed for time! There is no fancy ingredient or complex cooking technique and hence this is a perfect recipe for beginners in Indian cooking!
20-24/Aprrox 400 gms Button Mushrooms 
1 large Onion, finely chopped 
2 large Tomato, thinly sliced or chopped 
½ tsp Ginger-Garlic Paste 
1-2 tsp Sugar (Optional) 
½ tsp Cumin Seeds 
1 tbsp Oil For the 
Yogurt Marinade: 
1 cup Greek Yogurt or Hung Yogurt or Plain Yogurt 
½ tsp Haldi/Turmeric Powder 
½ tbsp Dhania/Coriander Powder 
½ tsp Jeera/Cumin Powder 
1 tsp Red Chilli Powder (Adjust acc to taste) 
½ tsp Garam Masala (Optional) 
½ tsp Ginger-Garlic Paste 
Salt to taste
VILLAGE NATURAL YOGHURT 1 KG
VILLAGE GREEK STYLE YOGHURT 1 KG
VILLAGE PREMIUM YOGHURT 1 KG
First prepare the yogurt marinade by whisking the yogurt to remove any lumps. Add all the spice powders listed above in the lost along with ginger-garlic paste and salt to taste. Keep it aside till needed. 
Clean the mushrooms and cut them in half or quarters depending on the size of mushrooms. Here I have used a combination of chestnut mushrooms and button mushrooms, so feel free to use any one or combination of your favourite mushrooms. 
Place all the chopped mushrooms in a large bowl and pour yogurt marinade to it. Gently mix them all using fingers so that every individual mushroom piece is coated with the marinade. Keep it aside covered with a cling film for 15-20 minutes for all the flavours to blend well. 
Heat oil in a pan and add cumin seeds to it. When cumin seeds start to sizzle and change colour, about 30 seconds, add finely chopped onions to it. Sauté the onion till it turn golden, about 3 minutes, on medium flame. 
Add ginger-garlic paste and sugar and fry them till the raw smell disappears, about 2 minutes. 
Mix in thinly sliced tomatoes and cook them till they turn pulpy and release their juice, about 3 minutes. 
Add marinated mushrooms and fry them till they start to release their juice. Cover and let them cook for 5-10 minutes, mixing them in between, till they are cooked thoroughly. 
Serve this delicious yogurt gravy based Dahiwale Mushrooms or Mushroom Yogurt Curry hot with any Indian flat breads (Whole Wheat Naan or Butter Naan or with any stuffed parathas) or plain/flavoured Basmati rice.
FRESH MINCED GINGER & GARLIC 1 KG
CUMIN GROUND 1 KG
CORIANDER (DHANIA) GROUND 1 KG
✉️ info@anandofoodgroup.com
🌐 www.anandofoodgroup.com
📍 Australia 🇦🇺 Asia 🇮🇳 New Zealand 🇳🇿 
🍱 International Food Distributor
Mushroom Curry, Mushroom Yogurt Curry, Yogurt Curry, Yogurt Based Curries, Indian Curries, Mushroom Recipe, Yogurt Recipe, Spicy Curry, Spicy Yogurt Curry, Spicy Mushroom Curry, Anando, Anando Food Group, Yummy, Delicious, Fresh, Foodie, Homemade, Healthy Food, Healthy Living, Nutrition, Nutritional Food, Healthy Eating, Healthy Life Style, Health Food, Clean Eating, Fresh Food, Delicious Food, Healthy Recipe, Food Recipe, Nutritional Recipe, Yummy Food, Yummy Recipes, Homemade Food, Homemade Recipes, Food Lovers, Australia, Brisbane, Gold Coast, Sunshine Coast, Melbourne, Sydney, Australian Food, Wholesale Food, Food Distributor, International Food, International Distributor