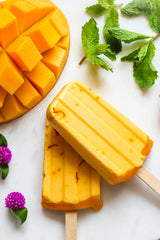 Homemade creamy-tangy mango popsicles made with fresh mangoes, yogurt, floral saffron & a hint of salt perfectly balancing the sweetness. This is an easy-to-make, hard-to-resist fun summer treat that kids and adults are sure to devour!
1.5 cups Greek yogurt
2 cups mango pulp or 3 ripe mangoes 
1 tablespoon sugar or honey, optional 
1/2 teaspoon saffron optional 
1/4 teaspoon kosher salt
If using ripe mango, peel and cut the mango. Add mango pieces to a blender and blend until smooth. Skip this step if using canned mango puree 
To the blender with mango puree add yogurt, salt, and saffron and blend until smooth. 
Pour the mix into the popsicle mold. Do not overfill molds, allow for expansion by leaving about 1/4 inch of space at the top of each mold. Place the lid on and then insert the wooden sticks, leaving about 1.5 inches out so they are easier to remove. Freeze for 8 hours or overnight. 
To remove the popsicles, run the mold under warm water which will loosen the ice pops or keep the mold in a large pot with warm water for a minute. Make sure that lid is not submerging in water. 
Then gently pull the mango lassi popsicles. Enjoy immediately or if serving later place them in a parchment paper lined tray or individually wrap them in parchment paper and store in freezer proof container.
✉️ info@anandofoodgroup.com
🌐 www.anandofoodgroup.com
📍 Australia 🇦🇺 Asia 🇮🇳 New Zealand 🇳🇿 
🍱 International Food Distributor
Green Chutney, Chutney Recipe, Chutney, Dip, Sides, Anando, Anando Food Group, Yummy, Delicious, Fresh, Foodie, Homemade, Healthy Food, Healthy Living, Nutrition, Nutritional Food, Healthy Eating, Healthy Life Style, Health Food, Clean Eating, Fresh Food, Delicious Food, Healthy Recipe, Food Recipe, Nutritional Recipe, Yummy Food, Yummy Recipes, Homemade Food, Homemade Recipes, Food Lovers, Australia, Brisbane, Gold Coast, Sunshine Coast, Melbourne, Sydney, Australian Food, Wholesale Food, Food Distributor, International Food, International Distributor