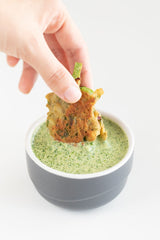 Green chutney is a delicious sauce, usually served with Indian savory dishes or as a dip with some naan bread or papadum.
2 cups fresh chopped cilantro (25 g) 
1 cup fresh chopped mint leaves (12 g) 
2 cloves of garlic 
1-inch piece of ginger root (about 2.5 cm) 
1/4 cup water (65 ml) 
2 tbsp lemon juice 
2 tbsp tahini 
1/2 tsp ground cumin 1
/2 tsp salt 
1/8 tsp cayenne flakes (optional)
Add all the ingredients to a food processor or a blender and blend until smooth. 
Serve immediately with your favorite Indian dish or as a snack with some naan bread, papadum, crudités, etc. I served it with some pakoras. 
Keep leftovers in a sealed container in the fridge for 3 to 4 days.
Notes:
Tahini can be replaced by oil, but I would add only 2 tbsp of water.
Classic recipe is made with green chilli, I used cayenne flakes. If you don't like spicy food, omit the cayenne flakes or add less.

✉️ info@anandofoodgroup.com
🌐 www.anandofoodgroup.com
📍 Australia 🇦🇺 Asia 🇮🇳 New Zealand 🇳🇿 
🍱 International Food Distributor
Green Chutney, Chutney Recipe, Chutney, Dip, Sides, Anando, Anando Food Group, Yummy, Delicious, Fresh, Foodie, Homemade, Healthy Food, Healthy Living, Nutrition, Nutritional Food, Healthy Eating, Healthy Life Style, Health Food, Clean Eating, Fresh Food, Delicious Food, Healthy Recipe, Food Recipe, Nutritional Recipe, Yummy Food, Yummy Recipes, Homemade Food, Homemade Recipes, Food Lovers, Australia, Brisbane, Gold Coast, Sunshine Coast, Melbourne, Sydney, Australian Food, Wholesale Food, Food Distributor, International Food, International Distributor