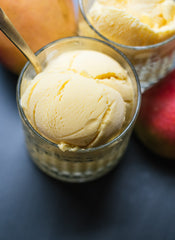 This frozen yogurt version is just as refreshing as the traditional version, if not more so. It's smooth, creamy and scoopable right from the freezer, thanks to honey's mysterious anti-freezing properties. Fresh mangos can be a little pricy and difficult to work with, so I recommend using frozen mango so you can save money and skip the slicing steps!
16 ounces mango chunks (1 pound), frozen or fresh
⅔ cup honey 
1 small lime, juiced 
⅛ teaspoon salt 
2 cups full-fat yogurt, chilled
In a medium saucepan, combine the mango (frozen or fresh), honey, lime juice and salt. Bring the mixture to a gentle boil over medium heat. Reduce heat to maintain a simmer, then cook, stirring occasionally, for 15 minutes. 
Remove the mango mixture from heat and let it cool for a few minutes. Purée the mixture in a blender until it is completely smooth. 
Transfer the mixture to a bowl (using a larger bowl will help the mixture cool faster) and refrigerate it until the mixture is thoroughly chilled. You can let it cool in the refrigerator for a few hours, or even overnight, or speed up the process by placing the bowl in the freezer, stirring every 15 minutes or so, for about 45 minutes. 
Mix together your chilled mango mixture and chilled yogurt, then freeze the mixture in your ice cream maker according to your manufacturer's instructions. Serve immediately for a soft serve texture, or transfer the frozen yogurt to a freezer-safe container and freeze for several hours for a scoopable consistency.
✉️ info@anandofoodgroup.com
🌐 www.anandofoodgroup.com
📍 Australia 🇦🇺 Asia 🇮🇳 New Zealand 🇳🇿 
🍱 International Food Distributor
Mango Lassi Frozen Yogurt, Frozen Yogurt, Mango Yogurt, Mango Desserts, Indian Dessert, Sweet Frozen Yogurt, Yogurt Dessert, Creamy Desserts, Sweet Desserts, Frozen desserts, Anando, Anando Food Group, Yummy, Delicious, Fresh, Foodie, Homemade, Healthy Food, Healthy Living, Nutrition, Nutritional Food, Healthy Eating, Healthy Life Style, Health Food, Clean Eating, Fresh Food, Delicious Food, Healthy Recipe, Food Recipe, Nutritional Recipe, Yummy Food, Yummy Recipes, Homemade Food, Homemade Recipes, Food Lovers, Australia, Brisbane, Gold Coast, Sunshine Coast, Melbourne, Sydney, Australian Food, Wholesale Food, Food Distributor, International Food, International Distributor