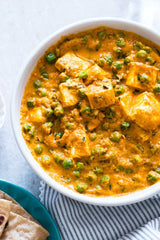 This Creamy Matar Paneer Curry is the kind of recipe that will save the day when your paneer cravings strike! Its super quick, yummy and is gluten free! Nothing beats a creamy, comforting and luscious curry, isn't it!?
1 teaspoon Jeera or Cumin Seeds 
1 Onion finely chopped 
1 teaspoon Ginger Garlic Paste 
3 Tomatoes finely chopped 
1 teaspoon Red Chilli Powder 
1 tablespoon Coriander Powder 
1/2 teaspoon Turmeric Powder 
1/2 cup Greek Yogurt or Hung Curd 
1 teaspoon Kasuri Methi optional 
3/4 teaspoon Garam Masala Powder 
250 grams Paneer or Indian Cottage Cheese, cut into 1 inch pieces 
3/4 cup par boiled Green Peas or frozen Matar, thawed and boiled 
Salt to taste
Heat oil in a pan and add cumin seeds. Once they start to crackle add onions and ginger garlic paste
Saute the onions for a few minutes till translucent and add tomatoes, salt and all the spices. Mix well, and cover and cook for 5-7 minutes till the tomatoes are cooked through. 
Whisk yogurt in a bowl, and add the onion tomato mixture one tablespoon at a time to the bowl, mixing well after each time. After 5-6 tablespoons, transfer the yogurt mixture back into the pan. This method helps avoid the yogurt curdling. 
Switch off the flame and use a hand blender to blend the curry to a consistency that you like. This step is completely optional. 
Switch the flame back on and add the peas, garam masala and kasuri methi. Mix and simmer for 5 minutes and then add the paneer. Mix well and simmer for another 2-3 minutes and turn off the flame. Serve creamy matar paneer curry hot with parathas and rice.
FRESH MINCED GINGER & GARLIC 1 KG
GROUND HOT CHILLI POWDER 1 KG
CORIANDER (DHANIA) GROUND
✉️ info@anandofoodgroup.com
🌐 www.anandofoodgroup.com
📍 Australia 🇦🇺 Asia 🇮🇳 New Zealand 🇳🇿 
🍱 International Food Distributor
Creamy Matar Paneer Curry, Creamy Curry, Curry, Indian Curry, Paneer Curry, Paneer Meals, Matar Curry, Creamy Matar Curry, Vegan Curry, Indian Food, Indian Meals, Anando, Anando Food Group, Yummy, Delicious, Fresh, Foodie, Homemade, Healthy Food, Healthy Living, Nutrition, Nutritional Food, Healthy Eating, Healthy Life Style, Health Food, Clean Eating, Fresh Food, Delicious Food, Healthy Recipe, Food Recipe, Nutritional Recipe, Yummy Food, Yummy Recipes, Homemade Food, Homemade Recipes, Food Lovers, Australia, Brisbane, Gold Coast, Sunshine Coast, Melbourne, Sydney, Australian Food, Wholesale Food, Food Distributor, International Food, International Distributor