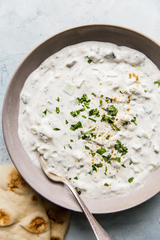 A creamy, cooling Indian yogurt-based condiment, this easy raita recipe makes a refreshing dip or a saucy side dish. We especially love it with spicy, juicy Tandoori chicken.
1 1/2 cup Plain yogurt 
1 cup English cucumber, finely diced 
1/4 cup Fresh cilantro, minced 
1/2 tsp Cumin 
1/2 tsp Garam masala 
1/2 tsp Salt
VILLAGE PREMIUM YOGHURT 1 KG
VILLAGE ORGANIC NATURAL YOGHURT 1 KG
VILLAGE NATURAL YOGHURT 1 KG
This cool and lush Indian yogurt dip, or saucy side dish, is much easier than it seems. It's more about texture and temperature than anything else—cool, creamy, a little crunch from the cucumber—and so the preparation is as straightforward as the ingredients. 
 Cut your cucumber into tiny cubes, and mince some cilantro. If you don't use an English cucumber, you may want to peel it. 
Stir together the yogurt, salt and spices. Add the cucumber and cilantro. 
Stir to combine. And you're done! Raita is good right away, but it also benefits from a few minutes in the fridge to let the flavors meld.
✉️ info@anandofoodgroup.com
🌐 www.anandofoodgroup.com
📍 Australia 🇦🇺 Asia 🇮🇳 New Zealand 🇳🇿 
🍱 International Food Distributor
Raita, Yogurt Raita, Cucumber Raita, Creamy Raita, Cooling Raita, Easy Raita Recipe, Raita Recipe, Dip, Creamy Dip, Cooling Dip, Yogurt Dip, Anando, Anando Food Group, Yummy, Delicious, Fresh, Foodie, Homemade, Healthy Food, Healthy Living, Nutrition, Nutritional Food, Healthy Eating, Healthy Life Style, Health Food, Clean Eating, Fresh Food, Delicious Food, Healthy Recipe, Food Recipe, Nutritional Recipe, Yummy Food, Yummy Recipes, Homemade Food, Homemade Recipes, Food Lovers, Australia, Brisbane, Gold Coast, Sunshine Coast, Melbourne, Sydney, Australian Food, Wholesale Food, Food Distributor, International Food, International Distributor