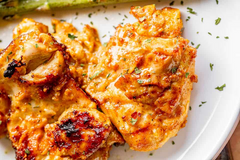 Tired of the same old flavors day in and day out? Well, get excited AND rest easy!This simple recipe is packed with amazing flavor and makes the most tender chicken thighs OF EVER, thanks to the yogurt.
Ingredients 
1 cup nonfat plain yogurt 
1 tablespoon extra virgin olive oil 
1 tablespoon curry powder 
1 tablespoon chili powder 
1/2 tablespoon cumin 
1 teaspoon garlic powder 
1 teaspoon onion powder 
1 teaspoon salt 
8 (about 2 pounds, total) boneless, skinless chicken thighs 
chopped fresh cilantro, for garnish
In a large mixing bowl, combine yogurt, oil, curry powder, chili powder, cumin, garlic powder, onion powder, and salt; mix to combine. Add chicken thighs and toss until well-coated.
Cover and marinate for at least 30 minutes. You can also cover and refrigerate for up to 8 hours. 
Remove chicken from fridge and let stand for 15 minutes at room temperature.

Set the oven to BROIL 

Transfer chicken to a broiler pan or foil-lined baking sheet or broiler pan. Discard yogurt marinade. 

Broil chicken for 8 minutes; flip chicken thighs and broil 7 to 8 minutes more, or until internal temperature reaches 165°F. 
Remove from oven. Garnish with cilantro and serve.

Preheat grill to medium-high, about 425°F to 450°F. 
Brush the grill grates with oil. 
Place chicken thighs on grill and grill for 7 minutes per side, or until internal temperature of chicken reaches 165˚F.
TIPS FOR THE BEST CHICKEN THIGHS
Chicken thighs are a really forgiving dish, so they're perfect for a busy day or evening. If you want to make sure you get the absolute best flavor, follow these easy tips: 
Let the chicken marinate for up to 8 hours for maximum flavor. Wipe away most of the marinade when it's time to cook. 
Always let your chicken stand for 15 minutes before cooking. Room-temperature proteins cook better, resulting in a tastier texture. 
If you choose the broiler method, a broiler pan works great to hold the chicken thighs – but you can also use a baking sheet or cast-iron skillet. Don't use glass or Pyrex under the broiler.
The Indian-inspired flavor combinations in this dish pair really well with basmati rice, but also go deliciously with jasmine rice, a simple spinach salad with a sweet vinaigrette, or a mixture of raw, fresh veggies and fruit.
✉️ info@anandofoodgroup.com
🌐 www.anandofoodgroup.com
📍 Australia 🇦🇺 Asia 🇮🇳 New Zealand 🇳🇿 
🍱 International Food Distributor
Chicken Recipe, Chicken Meal, Indian Style Chicken, Yogurt Marinade, Yogurt Marinaded Chicken, Indian Style Yogurt Marinade, Indian Chicken Meal, Chicken Thigh Recipe, Delicious Indian Chicken, Indian Style Food, Indian Style Meals, Indian Meals, Vegan Meals, Anando, Anando Food Group, Yummy, Delicious, Fresh, Foodie, Homemade, Healthy Food, Healthy Living, Nutrition, Nutritional Food, Healthy Eating, Healthy Life Style, Health Food, Clean Eating, Fresh Food, Delicious Food, Healthy Recipe, Food Recipe, Nutritional Recipe, Yummy Food, Yummy Recipes, Homemade Food, Homemade Recipes, Food Lovers, Australia, Brisbane, Gold Coast, Sunshine Coast, Melbourne, Sydney, Australian Food, Wholesale Food, Food Distributor, International Food, International Distributor