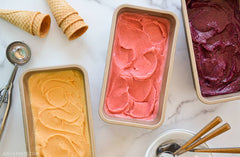 Who says dessert can't be healthy? Blend your way to the ultimate recipe for 5-Minute Healthy Greek Frozen Yogurt made with your choice of fruit!
Ingredients 
4 cups frozen fruit 
1/2 cup plain Greek yogurt 
2 teaspoons vanilla extract 
3 Tablespoons honey
In the bowl of a food processor, combine the frozen fruit, Greek yogurt, vanilla extract and honey. 
Process the mixture until it is creamy, about 5 minutes.
Serve the frozen yogurt immediately or transfer it to an airtight container and freeze it until ready to serve.
There are a few important tips for transforming frozen fruit into fabulously healthy Greek frozen yogurt:
You can use any type of frozen fruit in this recipe.
 You can use any flavor and percentage of fat yogurt (Greek or regular). 
You can add more or less honey based on the sweetness of the fruit and your own taste preferences.
 You can add in peanut butter, Nutella, chocolate chips, nuts or any other mix-in involved in your frozen yogurt fantasies.
✉️ info@anandofoodgroup.com
🌐 www.anandofoodgroup.com
📍 Australia 🇦🇺 Asia 🇮🇳 New Zealand 🇳🇿 
🍱 International Food Distributor
Yogurt Desserts, Yogurt Ice Cream, Ice Cream Desserts, Fruity Ice Cream, Fruity Yogurt, Healthy Desserts, Delicious Desserts, Strawberry Yogurt Ice Cream, Peach Yogurt Ice Cream, Anando, Anando Food Group, Yummy, Delicious, Fresh, Foodie, Homemade, Healthy Food, Healthy Living, Nutrition, Nutritional Food, Healthy Eating, Healthy Life Style, Health Food, Clean Eating, Fresh Food, Delicious Food, Healthy Recipe, Food Recipe, Nutritional Recipe, Yummy Food, Yummy Recipes, Homemade Food, Homemade Recipes, Food Lovers, Australia, Brisbane, Gold Coast, Sunshine Coast, Melbourne, Sydney, Australian Food, Wholesale Food, Food Distributor, International Food, International Distributor