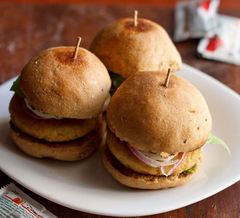 Simple but delicious Aloo tikki patties, elevated to make the best Indian style burgers
Ingredients 
5 to 6 Aloo tikki

5 to 6 burger buns

 

1 small tomato - thinly sliced

 

1 small onion - thinly sliced

 

4 to 5 lettuce leaves, chopped if large - or kept whole if small

 

coriander chutney as required

 

tamarind dates 
chutney as required 

chaat masala as required

 

some butter for applying on the buns - optional (dairy or vegan)
Heat some a tbsp of oil on a flat tava or frying pan. Place the potato tikkis on the pan
Whilst the patties or tikkis are frying, slice the onions, tomatoes, cucumber.
Fry the tikkis until golden brown and crisp from both sides.
Place the tikkis towards the edge of the pan, so that they are still warm. Smear some oil in the centre and lightly roast the sliced bread buns.
Apply the mint-coriander or coriander chutney on one side.
Place the tikki on this slice.
Top with the sliced onions, tomatoes and cucumber.
Sprinkle some chaat masala.
Apply the chutney again on the other slice. If you have sweet chaat chutney, you can apply this chutney on the other slice. Another variation is to apply both the chutneys on both the slices along with some butter.
Cover the bun to make a delicious burger. Insert a toothpick in the center of the burger. You can also place a glazed cherry inserted in the tooth pic in the center.
make all aloo tikki burger this way. Serve aloo tikki burger with tomato sauce and some coriander chutney or sweet chaat chutney by the side… Whatever you prefer.
✉️ info@anandofoodgroup.com
🌐 www.anandofoodgroup.com
📍 Australia 🇦🇺 Asia 🇮🇳 New Zealand 🇳🇿 
🍱 International Food Distributor
Burgers, Vegan Burgers, Aloo patties, Aloo Tikki, Potato Tikki, Potato Patties, Vegan Patties, Indian Burgers, Potato Burgers, Burger Meals, Indian Patties, Indian Style Food, Indian Style Meals, Indian Meals, Vegan Meals, Anando, Anando Food Group, Yummy, Delicious, Fresh, Foodie, Homemade, Healthy Food, Healthy Living, Nutrition, Nutritional Food, Healthy Eating, Healthy Life Style, Health Food, Clean Eating, Fresh Food, Delicious Food, Healthy Recipe, Food Recipe, Nutritional Recipe, Yummy Food, Yummy Recipes, Homemade Food, Homemade Recipes, Food Lovers, Australia, Brisbane, Gold Coast, Sunshine Coast, Melbourne, Sydney, Australian Food, Wholesale Food, Food Distributor, International Food, International Distributor