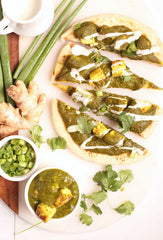 Delicious Palak Paneer gravy, paneer and naan, served in a modern dish
Curry Paneer
8 oz. paneer 
2 tbsp. water 
2 tbsp. yellow miso 
1 tbsp. lemon juice 
1 tbsp. nutritional yeast 
1 tsp. curry powder 
1/2 tsp. salt
Spinach Gravy

1 medium onion, roughly chopped 
1 tbsp fresh ginger, peeled and minced 
2 cloves garlic, minced 
2 tsp. cumin 
1 tsp. coriander 
1/2 tsp. turmeric 
pinch of cayenne 
1 medium steak tomato 
5 cups loosely packed spinach 
2 tsp. garam masala 
1/2 tsp. salt
Everything Else
2 tbsp. avocado oil, divided 
4 pieces of vegan naan 
a few sprigs of cilantro 
2-3 green onions, chopped 
2-3 tbsp cashew cream
 Begin with marinating the Paneer. Cut paneer into small 1/2 in x 1/2 inch squares. In a shallow, flat container combine all the ingredients for the marinade. Add paneer and toss to fully saturate.
Preheat the oven to 400 degrees.
In a large frying pan heat oil over medium heat. Add onions and sauté until translucent – about ten minutes. Add garlic and ginger and sauté for 2 more minutes. Add spices, stirring to coat vegetables. You may need to add a couple of tablespoons of water to get spices fully incorporated. Stir in the chopped tomato and remove from heat.
In a food processor or blender, puree the onion/tomato mixture with spinach. You can use a store bought Palak Paneer Gravy as well. Return to sauté pan and add marinaded Paneer. Cook for 5 more minutes.
Lightly brush olive oil on all 4 pieces of naan. Cook for 5 minutes. Remove from oven and spread a thin layer of palak paneer on each piece of naan. Bake for 8-10 more minutes. Remove from oven and top with cashew cream, green onions, and cilantro. Serve immediately.
Anando Food Group 

 📞 0431 119 293 
 ✉️ info@anandofoodgroup.com 
 🌐 www.anandofoodgroup.com 
📍 Australia 🇦🇺 Asia 🇮🇳 New Zealand 🇳🇿

🍱 International Food Distributor

 Design By Flux Media
Pizza, Vegan Pizza, Paneer Pizza, Palak Paneer, Palak Pizza, Paneer Gravy, Palak Gravy, Indian Pizza, Vegan Meals, Vegan Food, Indian Style Food, Indian Style Meals, Indian Meals, Vegan Meals, Anando, Anando Food Group, Yummy, Delicious, Fresh, Foodie, Homemade, Healthy Food, Healthy Living, Nutrition, Nutritional Food, Healthy Eating, Healthy Life Style,Health Food, Clean Eating, Fresh Food, Delicious Food, Healthy Recipe, Food Recipe, Nutritional Recipe, Yummy Food, Yummy Recipes, Homemade Food, Homemade Recipes, Food Lovers, Australia, Brisbane, Gold Coast, Sunshine Coast, Melbourne, Sydney, Australian Food, Wholesale Food, Food Distributor, International Food, International Distributor