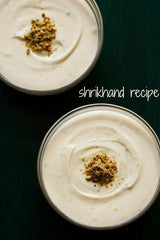 This shrikhand recipe is enough for 4 to 5 servings. but if you want to reduce the servings, then just prepare less amount of hung curd. Later add sugar and the flavorings accordingly. It can be served plain or accompanied with pooris. If pooris are a concern for your health, then accompany them with chapatis.
Ingredients 
 For Hung Curd 
4.5 cups fresh full fat curd (yogurt) or about 1.125 kg or 1.125 litres curd - made from 1 litre milk 
For Shrikhand 
8 to 9 tablespoon sugar or powdered sugar - add as per taste  
½ teaspoon cardamom powder or 4 to 5 green cardamoms - crushed finely in a mortar-pestle 
2 pinch saffron strands 
½ tablespoon warm milk 
7 to 8 crushed or chopped pistachios for garnish. you can use any dry fruit of your choice
first line a strainer on a deep bowl. then line a muslin/cheesecloth/kitchen cotton towel on the strainer.
Pour the fresh curd. We added 4.5 cups of curd (made from 1 litre of full fat milk, about 1.125 kgs). Do use fresh curd and not sour one.
Bring the four edges of the muslin together and tie one edge tightly around the rest.
Gently press and you will see the whey dripping.
Now place a heavy bowl or lid or tray on the tied muslin. If you have a hook, you can also hung the muslin in your refrigerator. Now keep the whole thing in the fridge for 4 to 5 hours or overnight. We kept for 24 hours. Do use a deep bowl below, so that there is some distance between the curd in the strainer and the collected whey. Otherwise, the whey will touch the strainer as well as the curd. Thus there will be some whey in the curd.
Next day, the whey has been drained off and here's the hung curd. Use the collected nutrient rich greenish whey in your everyday Indian food like preparing chapatis, gravies, rice dishes, dals etc.
This hung curd or chakka is very creamy and smooth. The texture is similar to like that of cream cheese. From 1.125 kgs, the yield was 425 grams of hung curd. With a silicon spatula, collect the hung curd in a container or lidded bowl if not using it immediately. Cover with its lid and then refrigerate. With the hung curd you can now proceed to make the shrikhand.
Take ½ tbsp warm milk in a small bowl. Add 2 pinch of saffron strands. Stir and keep aside.
In a mortar powder 4 to 5 green cardamoms. Keep aside.
Take the chakka or hung curd in a bowl.
Add fine sugar. Lightly stir with a spatula or spoon. You can also use powdered sugar.
Then add the saffron dissolved milk and powdered saffron.
Using an electric beater, begin to whip the hung curd. You can also beat the hung yogurt in a blender.
Whip till smooth. The sugar should also dissolve. Check the taste and add more sugar if required.
With a silicon spatula scrape the beaters' sides as well edges to remove the shrikhand and then add it to the bowl.
You can chill the shrikhand in fridge and serve later. While serving shrikhand top with some sliced dry fruits or charoli/chironji. You can also top with crushed dry fruits. I added some crushed pistachios for garnish.
Anando Food Group 

 📞 0431 119 293 
 ✉️ info@anandofoodgroup.com 
 🌐 www.anandofoodgroup.com 
📍 Australia 🇦🇺 Asia 🇮🇳 New Zealand 🇳🇿

🍱 International Food Distributor

 Design By Flux Media
Quick Shirkhand, Indian Shrikhand, Sweet Desserts, Indian Desserts, Indian Style Desserts, Traditional Shrikhand, Anando, Anando Food Group, Yummy, Delicious, Fresh, Foodie, Homemade, Healthy Food, Healthy Living, Nutrition, Nutritional Food, Healthy Eating, Healthy Life Style, Health Food, Clean Eating, Fresh Food, Delicious Food, Healthy Recipe, Food Recipe, Nutritional Recipe, Yummy Food, Yummy Recipes, Homemade Food, Homemade Recipes, Food Lovers, Australia, Brisbane, Gold Coast, Sunshine Coast, Melbourne, Sydney, Australian Food, Wholesale Food, Food Distributor, International Food, International Distributor