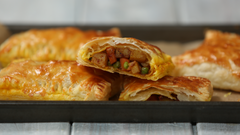 These spiced vegetable pastries make a great vegetarian alternative to sausage rolls, as they're packed with classic Indian flavours, as well as onions, potato, carrots, beans and peas. These Tasty vegetable puffs make great meat free party snacks. Looking to try your hands on making homemade veg puff pastry? Here goes the recipe for that:
Ingredients (Makes 8 Servings) 
 1 Ready-made puff pastry sheet 
1 cup Mixed veggies chopped 
1 Onion 
1 Tomato chopped, deseeded  
1 tsp Ginger garlic paste optional  
1 tsp Cumin seeds  
1 tsp Red chilli powder/sambar powder – 1 tsp  
1/2 tsp Garam masala powder – 1/2 tsp  
1/8 tsp Turmeric powder – 1/8 tsp  
2 tsp Oil Salt – as needed  
3 tbsp Coriander leaves chopped
Firstly, thaw and prepare the pastry sheets as per the instructions given in the package.
1. In a small cooker, Pressure cook the veggies for 2 whistles with water just sprinkled over the veggies. Quick release the pressure to retain the colour. 
2.  Heat a pan with oil and splutter cumin seeds. 
3. Add onions and fry for a minute. In goes ginger garlic paste and fry for 30 secs. 
4. Add the boiled veggies and chopped deseeded tomatoes. Tip in all the spice powders given in the table. 
5. Mix well and fry in low flame till all the masala blends well in the veggies.

6. Lastly add the salt and mix well. Switch off the flame and cool down.
7. Line a baking tray with a baking sheet. Grease it with oil to prepare for baking.
8. Cut into pastry sheets to rectangles as shown in the picture. Arrange those in the baking sheet.
9. Keep 2 tbsp of filling in one side of the rectangle and fold to cover the stuffing.
10. Brush the puff with oil or ghee. Bake for 15 – 20 mins, until golden brown in color.
11. Brush again with oil or ghee if desired.
All done. Serve hot with tomato sauce/ ketchup/ chilli sauce.

Anando Food Group 

 📞 0431 119 293 
 ✉️ info@anandofoodgroup.com 
 🌐 www.anandofoodgroup.com 
📍 Australia 🇦🇺 Asia 🇮🇳 New Zealand 🇳🇿

🍱 International Food Distributor

 Design By Flux Media
Veggie Puffs, Vegetarian Puff, Puff Pastry, Indian Pastry, Indian Style Puff, Indian Style Pastry, Indian Puff, Vegan Puff, Vegan Pastry, Indian Style Food, Indian Style Meals, Indian Meals, Vegan Meals, Anando, Anando Food Group, Yummy, Delicious, Fresh, Foodie, Homemade, Healthy Food, Healthy Living, Nutrition, Nutritional Food, Healthy Eating, Healthy Life Style, Health Food, Clean Eating, Fresh Food, Delicious Food, Healthy Recipe, Food Recipe, Nutritional Recipe, Yummy Food, Yummy Recipes, Homemade Food, Homemade Recipes, Food Lovers, Australia, Brisbane, Gold Coast, Sunshine Coast, Melbourne, Sydney, Australian Food, Wholesale Food, Food Distributor, International Food, International Distributor