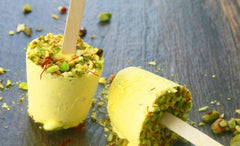 Easy kulfi recipe that is sure going impress your family and friends! A SUPER CREAMY  pistachio kulfi ice cream that is flavoured with saffron and cardamom will soon become your go-to kulfi recipe every summer. 
Ingredients
- 2  cups  heavy cream, 
-  divided 1/2 teaspoon  saffron threads 
- 1  (14-ounce)  can sweetened condensed milk 
- 1  teaspoon  cardamom powder 
- 1/4 cup + 2 tablespoons  raw pistachios, chopped, divided

Additional ingredients 
- popsicle moulds or paper cups 
- popsicle sticks

Day-1
Into a small saucepan, add 1 cup heavy cream and saffron. Heat over low-medium heat, until it comes to a gentle boil. Remove from heat and cool to room temperature. Transfer cream into a covered container and refrigerate until completely cold (at least 5 hours or up to a day).

Day-2 
Into a large bowl, combine saffron soaked heavy cream and remaining 1 cup heavy cream. Beat with hand held electric beater (on high speed) until thick and softly whipped (when soft peaks begin to form), about 1 1/2 minutes.  
Into the whipped saffron cream, add sweetened condensed milk, cardamom powder and 3 tablespoons chopped pistachios. Whip again for about 30 seconds, until mixed completely.
To make easy Kulfi moulds
Transfer mixture into popsicle molds or paper cups. Sprinkle remaining chopped pistachios on top, insert popsicle sticks and place in freezer overnight. ( If using paper cups – when ready to eat, snip off a bit of the cup and peel off pop)

Wholesale: Kesar Kulfi Stick Bulk Supply
Kesar Kulfi
Anando Food Group   
📞 0431 119 293   
✉️ info@anandofoodgroup.com   
🌐 www.anandofoodgroup.com  
 📍 Australia 🇦🇺 Asia 🇮🇳 New Zealand 🇳🇿  
Design By Flux Media 
Anando, Anando Food Group, Healthy Food, Australia, Brisbane, Gold Coast, Sunshine Coast, Melbourne, Sydney, Australian Food, Wholesale Food, Insta Good, Yummy, Insta Pic, Delicious, Fresh, Foodie, Homemade, Buzz Feed Food, Good Eats, Eats, Hungry, Food Is Fuel, Eat Good, Food For Foodies