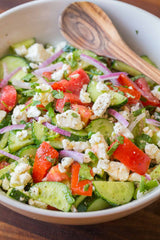 This Cucumber Tomato Feta Salad has simple ingredients that are a winning combination – so refreshing and flavorful! We can't get enough of our garden cucumbers and tomatoes so we have been experimenting with all different flavors and cheeses and this is a new favorite.
The feta cheese gives this salad satisfying Greek Salad flavor and adds the salty notes so you hardly have to add any salt (or you can skip the salt altogether). When you add salt to cucumbers and tomatoes, they start to get juicy and soft so less salt means the salad will stay crisp longer.
1 lb Roma tomatoes (4 medium) chopped 
1 English Cucumber or 4 small garden cucumbers sliced 
6 oz feta cheese large crumbles or diced is best 
1 small red onion sliced 
1/4 cup cilantro (or 1/4 bunch), chopped* 
Salad Dressing Ingredients: 
2 Tbsp extra virgin olive oil 
2 Tbsp fresh lemon juice from 1 medium lemon 
2 garlic cloves pressed 
1/4 tsp sea salt or to taste 1
/4 tsp black pepper 
1/4 tsp ground cumin
In a small bowl, stir together dressing ingredients: 2 Tbsp olive oil, 2 Tbsp lemon juice, pressed garlic cloves, 1/4 tsp salt, 1/4 tsp pepper and 1/4 tsp cumin. 
In a large mixing bowl, add prepared salad ingredients: chopped tomatoes, sliced cucumber, feta cheese crumbles, sliced red onion and 1/4 cup chopped cilantro. 
Just before serving, drizzle with dressing and toss to combine. Season to taste with salt if desired.
✉️ info@anandofoodgroup.com
🌐 www.anandofoodgroup.com
📍 Australia 🇦🇺 Asia 🇮🇳 New Zealand 🇳🇿 
🍱 International Food Distributor
Tomato Cucumber Salad, Tomato Salad, Cucumber Salad, Feta Salad, Feta Cheese, Feta Recipe, Feta In Salad, Veggie Salad, Vegetable Salad, Anando, Anando Food Group, Yummy, Delicious, Fresh, Foodie, Homemade, Healthy Food, Healthy Living, Nutrition, Nutritional Food, Healthy Eating, Healthy Life Style, Health Food, Clean Eating, Fresh Food, Delicious Food, Healthy Recipe, Food Recipe, Nutritional Recipe, Yummy Food, Yummy Recipes, Homemade Food, Homemade Recipes, Food Lovers, Australia, Brisbane, Gold Coast, Sunshine Coast, Melbourne, Sydney, Australian Food, Wholesale Food, Food Distributor, International Food, International Distributor