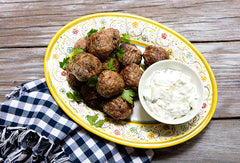 This meatball recipe may sound like something you would enjoy in Greece or Morocco, but with an Italian flair using typical Italian seasonings and flavored the yogurt sauce with chopped basil and parsley. If you wanted to change up the sauce and serve one more characteristic of Greece, use chopped dill in place of the basil and parsley.  If you are not a big fan of lamb, you could use veal or even beef instead. The only trick to preparing these meatballs is not to overcook them. You want them juicy, not dry! If you need to, you can always cut into one to see if it is cooked to your desired doneness. If you do not have this nifty meatball grill basket, you can use bamboo or metal skewers to cook the meatballs. If using bamboo skewers, soak them in water a couple of hours before using so that they do not catch fire. Place three to four meatballs on each skewer before grilling. Any leftovers (if you have any) can be gently rewarmed in a low oven or the microwave.
MEATBALLS: 
1 1/4 Pound Ground Lamb 
1 Large Egg 
3 Garlic Cloves, Minced 
1/3 Cup Soft Breadcrumbs 
Salt & Pepper 
1 Teaspoon Dried Oregano 
3 Tablespoons Finely Chopped Fresh Parsley 
Olive Oil For Grilling 
YOGURT SAUCE: 
1 Cup Full Fat Greek Yogurt 
2 Tablespoons Freshly Squeezed Lemon Juice 
Salt & Pepper 
3/4 Cup Finely Chopped Cucumber 
2 Tablespoons Finely Chopped Fresh Basil 
2 Tablespoons Finely Chopped Fresh Parsley 
1 Medium Tomato, Seeded, Cored & Finely Chopped (Optional)
VILLAGE GREEK STYLE YOGHURT 1 KG
OREGANO LEAVES 1 KG
ITALIAN MIXED HERBS 1 KG
Preheat grill to medium-high heat for 15 minutes. 
In a medium bowl, mix together the meatball ingredients with your hands until well blended. 
In a small bowl, mix together the yogurt sauce ingredients and then refrigerate until needed. 
Using your hands, shape the meat into 10 to 12 meatballs. 
If using a meatball grill basket, oil the basket and place the meatballs inside.
If using skewers, lightly oil the meatballs, and then place three on each skewer. 
Grill the meatballs 3 to 4 minutes per side until nicely browned on the exterior but still moist inside. 
Transfer meatballs to a platter and serve hot with the sauce on the side.
✉️ info@anandofoodgroup.com
🌐 www.anandofoodgroup.com
📍 Australia 🇦🇺 Asia 🇮🇳 New Zealand 🇳🇿 
🍱 International Food Distributor
Meatball, Meatball Recipes, Lamb Meatballs, Lamb Recipes, Grilled Meatballs, Grilled Lamb, Grilled Lamb Meatballs, Dips, Sauce, Yogurt Dip, Yogurt Sauce, Italian style Lamb, Anando, Anando Food Group, Yummy, Delicious, Fresh, Foodie, Homemade, Healthy Food, Healthy Living, Nutrition, Nutritional Food, Healthy Eating, Healthy Life Style, Health Food, Clean Eating, Fresh Food, Delicious Food, Healthy Recipe, Food Recipe, Nutritional Recipe, Yummy Food, Yummy Recipes, Homemade Food, Homemade Recipes, Food Lovers, Australia, Brisbane, Gold Coast, Sunshine Coast, Melbourne, Sydney, Australian Food, Wholesale Food, Food Distributor, International Food, International Distributor